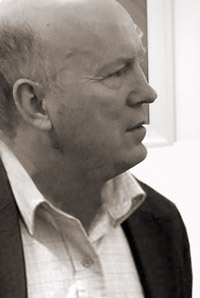 John Morris
John Morris was born in Dublin in 1958. His work evolves from direct observation en plein-air and his work exudes vitality and freshness. His introduction to this approach to painting was in 1997 after a chance meeting with Brian Quinn while he was working en-plein air by the side of the road. Being mostly self taught John took painting lessons with Brian after meeting him and later in 2000 he took a weekend course with Trevor Geoghegan. The experience of the Irish landscapes and streetscapes that inspire John is immediately tangible to the viewer through his spontaneous and unlaboured brush strokes.
"I love the Irish landscape, the effects of light, shadows, atmosphere, I make quick sketches in pencil, charcoal or oil. These sketches, along with photographs make up a visual diary which I use as reference material for my paintings. Paintings are sometimes finished in one session, other times it may take two or even three sessions to finish. Most often I will take a large painting 75% of the way and then leave it for a few weeks to dry – this gives me time to think about the painting.
I start with a quick charcoal sketch, working out the composition. I mix the main colours on the palette; these can be adjusted as the painting evolves. Once the main colours are mixed and the composition is worked out I start to paint quickly at first, then slowing as the painting becomes more resolved. Once I have either finished the painting or reached a point where I can go no further I leave it for another day. This approach of working out the composition and colours has the advantage of helping me to paint quickly, then hopefully the work will be fluid, spontaneous and not in any way laboured."
John has recently settled in Abbeyfeale, County Limerick where he has his studio and lives with his wife and three children.
Solo Exhibitions:

The Kenny Gallery
2004

Two-Man Exhibitions:

Daffodil Gallery, Dublin
2002
Green Gallery, Dublin
2005

Group Exhibitions:

Cheeverstown
1997, 1998, 1999, 2000
Tallaght Hospital
1999, 2000
Rotunda Hospital
2000
S.I.P.T.U. Headquarters, Dublin
1999, 2000
Green Gallery
2002,2003,2004,2005
Temple Art Gallery Blackrock County Dublin
2004
Blackrock Clinic
2004
St Michaels Hse Art Exhibition
2004
Mater Art Exhibition, Dublin
2002, 2003, 2004
St. Vincent's Hospital Fund
2002, 2003, 2004
Maeve Taylor Exhibitions in Dublin
2001, 2002, 2003, 2004
Agahmore Community Development Art Auction
2004
Art Ireland (Greenlane Gallery)
2002, 2003, 2004
Castleknock lions Art Exhibition
2003
Chernobyl Art Exhibition
2003
Affordable Art Fair London (Greenlane Gallery)
2003
Cill Rialiag Gallery, County Kerry
2000, 2001, 2002
Ramseys Gallery, Enniskerry
2002
Metatron Gallery, Enniskerry, Co Wicklow
2001, 2002
Beaufield Mews Art Exhibition
2002
Kinsale Art Gallery Kinsale Co Cork
2001

Collections/Commissions:

The National Council for the Blind of Ireland.
Abbey court Hotel, Nenagh.
Mount Juliet, Co Kilkenny

Residencies

Cill Rialiag, County Kerry
Artist's Statement
"We live in an era of aesthetic experiment in which 'mere' representation of the world is considered at best commonplace. Most art colleges consider drawing part of a tradition that has run its course. I personally don't agree with this, every kind of art has its place. The work that I aspire to is work which has a degree of skill, I have a love of the Irish Landscape, the effects of light and weather, atmosphere, distance. The paintings that result are fresh, immediate and compelling.
I am prone to stop to make quick oil or pencil sketches when something has caught my eye! Mornings and evenings, come rain, hail or shine I will stop and do this, gradually putting together a kind of visual record that I would use in more finished work. Eventually, encouraged by professional artists whose opinions I valued, and by sales of my own work in open exhibitions such as The Rotunda Hospital, I took the plunge, and started to exhibit in galleries. I work out of a studio adjacent to my house in Kilteel, which is close to the landscape, city and beach that I paint.
Today some critics tell us that to be great, art should shock, disturb and challenge our preconceptions - well, some should, but not all of it; art can be great that also celebrates the world around us. Painters who enjoy the landscape, the weather, light and shade; who love the beauty of flowers in a pot; the human form; the everydayness of kitchen things, are capable of being every bit as 'serious' as those whose vision is of a bleaker kind. What my art can do is make our faded eyes see that ordinary bit of the Irish countryside beach, etc in a different way."