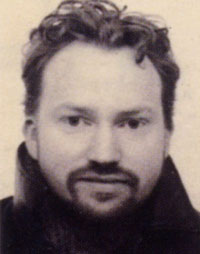 Cormac O'Leary
Cormac O'Leary was born in Cork and grew up in Sligo.
"I was very lucky, I grew up in a house that was full of paintings and artists. I was always drawing as a child, and just continued doing it"
. His father John was a distinguished painter and a charismatic teacher, and was a major influence. Cormac graduated with a diploma in fine art from Sligo RTC, and then lived in Spain for a time. He worked in Sligo Art Gallery before devoting himself to painting full time.
His father's great lesson... "Drawing is the basis for everything. You should produce a drawing a day" is still adhered to. He works primarily in oils and his reputation is growing. "I enjoy the abstract quality of paint and I work in layers. I am conscious of when it is complete as I know how easy it is to overdo it, not knowing when to stop - if you do that you lose the spontaneity and it becomes overworked. I may look at a piece that is not my favourite and try to work out what I did wrong, but I cannot often work back - it is all to do with what comes out when that image begins to take over".
---
Born in Cork City in 1969
ART EDUCATION

Sligo Institute of Technology;
One year Certificate in Visual Education - 1988
National Diploma in Fine Art ( Painting and Print) - 1988 - 91



SOLO EXHIBITIONS

2004
New Paintings, Vangard Gallery, Cork
2000
Dream Fields, Clotworthy Arts Centre, Antrim
1999
The Edge of the City, Hallward Gallery, Dublin
Night Crossing, Sligo Art Gallery



SELECTED GROUP EXHIBITIONS

2000
New Paintings, West Cork Arts Centre, Skibereen
Aer Rianta 'Gateway to Art', Dublin Airport
Works on Paper, Le Moyne Art Foundation, Tallahasee, Florida, USA
1999
A Salute to the New Millennium, Sligo Art Gallery
Christmas Show, Hallward Gallery, Dublin
Christmas Show, Lavit Gallery, Cork
Summer Show, Hallward Gallery, Dublin
Coast to Coast, Lavit Gallery, Cork
1998
On Board, Sligo Art Gallery
A Platter of Art, Lavit Gallery, Cork
1997
Works on Paper, The Cat & the Moon, Sligo
Outlines, The Market House, Monaghan Town
Masks at the Hawkswell, Hawkswell Theatre, Sligo
1996
Watercolours, Sligo Art Gallery
Works based on the writing of Dermot Healy, The Factory Performance Space, Sligo
1,2,3 O'Leary, Carroll's Art Gallery, Longford
1995
Strands, Monaghan County Museum and Art Gallery
Generations, The Rubicon Gallery, Dublin
1994
Monaghan Open Exhibition
1993
Three of a Kind, McCanny Building, Sligo
Drawings, Sligo Art Gallery
1992
Christmas Show, Model Arts Centre, Sligo
Beginnings, Sligo Park Hotel
1991
Diploma Show, Sligo Art Gallery
Group Six, Sligo Art Gallery
1990/91/93
Iontas, National Small Works Exhibition, Sligo Art Gallery
1994/96/99
(Toured to Dublin, Belfast, Limerick & Derry)
1990/91/94
Claremorris Open Exhibition, Mayo
1990 - 99
North Western Artists, Sligo Art Gallery (Annually)



AWARDS

Artist' Residency, Cill Rialaig Artists' Retreat, Co. Kerry - 1999
Studio Residency, Triskel Arts Centre, Cork - 1999
Arts Council / An Comhairle Ealaion Grants - 1993 - 94
D. O'Sullivan Graphics's Award for best overall student - 1991