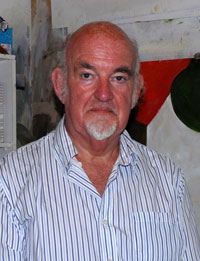 Charlo Quain
Charlo Quain was born in Cork in 1939. He attended UCD architectural faculty where the discipline of draughtsmanship... "introduced me to the blood, sweat and tears of the visual arts.
I studied under Somhairle McCana and John O'Leary at the Crawford School of Art in Cork. Having survived that initial period of formal training in the early sixties, which as I recall was devoted mostly to painting still life subjects with poster colours, I still wanted to paint. My subject matter is basically the Irish landscape as seen and remembered through the eyes at a staunch 'townie'.
I love the idea of the countryside but after a few days immersed in it I pine for the concrete, fumes and decaying fabric of the city."
Charlo has had several solo exhibitions and his work has featured in all of the main national group shows down the years. His work is held in the collections of Crawford Municipal Gallery, Allied Irish Bank and Bank of Ireland in Cork.