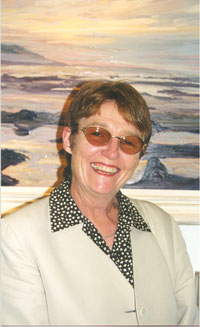 Margaret Watson
There is an old Irish proverb - "An áit a bhfuil do chroí, is ann a thabharfaidh do chosa thú" - your feet will bring you to where your heart is. This is perfectly true in the case of Margaret Watson who has found her own spiritual corners, mostly around Galway Bay. She is drawn back to these locations and inspired by them again and again.
These are quiet places, where she can lose herself - Renville, Ballyvaughan, Inis Mór, the Burren, her own garden. Occasionally she finds herself painting in the heart of the city at Long Walk for instance, or in Woodquay but she always imbues her images with a wonderful sense of calm. Margaret's work is a strong personal statement; finely observed paintings, beautifully crafted, warm representations of some places that she loves. One can see why she feels away from it all in these locations.
"I spent four years at Belfast College of Art, specialising in book binding and textile design. My time there gave me an opportunity to translate my interest in plant drawing and designs for printed textiles. I have always been attracted to plants and natural forms and find myself fascinated by the pattern and texture in these. I taught art for three years in Belfast and then retired to marry and have four children. During this period there was little spare time but time passes and I found, as the children became less demanding, I was able to return to painting and teaching again.
In coming to live in Galway, my interest in texture and pattern was re-awakened when I saw the shape, colour and form of the stone walls so prevalent in the West of Ireland. I admit to being constantly intrigued by the contrast between the colour and texture of these walls compared with the sturdy and solid shapes of overhanging trees. I still love to paint studies from nature especially wild flowers and plants and I find gouache an ideal medium for these."
Margaret taught in Belfast and Limerick before moving to Galway in 1978 and has participated in several group exhibitions. She draws inspiration for her work from nature and her work includes many flower studies and landscapes, with particular emphasis on stonewalls and trees. In recent years she has had successful solo exhibitions at The Kenny Gallery and An Dámhlann, Spiddal.