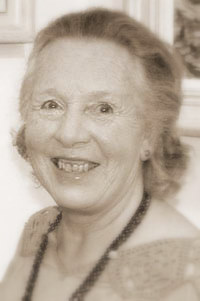 Rosemary Carr
Rosemary Carr was born in England and she now lives and works in Connemara. She paints in oil with a palette knife. Rosemary trained at the Birmingham School of Art getting a Diploma in Textile Design and later studied with Victor Askew and Pier L. Baffoni, both members of the ROI.
Rosemary has exhibited widely in Hertfordshire and still exhibits annually in the ROI Annual Exhibition in the Mall Gallery, London. Rosemary was elected an associate member of the Royal Institute of Oil Painters in 1986, and a full member in 1989.
Here in Ireland Rosemary has exhibited at The Kenny Gallery - Galway, and Kennedy's of Hartcourt Street in Dublin. She exhibited in the RHA in 2006 and 2007. Rosemary has been painting in Connemara since 1965, when she first discovered the area on holiday. She always paints outside, using the studio only to finish her work.
There are so many elusive qualities about that moving, changing mass of mountain bog and water that is known as Connemara that it is almost impossible to capture it on canvas. Artists respond to it in countless ways, by painting the people, the landscape, the fuchsia bushes, the brooding shapes and forms of the Twelve Bens.
The ultimate challenge for Rosemary Carr has been to show us how her corner of Connemara changes in terms of light, colour and atmosphere over a period of a calendar year. This spiritual place has affected her deeply emotionally, as well as in terms of her style of painting. There is a new freedom in her approach and looseness in her use of paint, a sense of adventure in her use of colour and a spontaneity that had not previously existed. Hers is an intensely emotional response to Connemara.
Her images reflect the changes that the sky can make to the colours and tones of the scenery around us. Carr remembers that a painter friend of hers spoke of how much the sky's colour was repeated in the land. "The mountains change from deepest indigo to palest blue or to mustard, because all of the light, sun, clouds or moisture in the air." he told her.
This fact of nature also influenced her last show in 2002. "I tried to show the change throughout the year and the silence of the bogs," she says. "This time I am looking to the sky and the mountain tops, as their influence tumbles to the land, and on into the hearts of the lakes and fjords."
Carr was inspired by the deep waters of Killary Harbour and its surrounding hills on the Galway/Mayo border. Yet with beauty there is also tragedy in the area's history. Carr describes the hills as being "like icebergs their height continues down, sliding through lake's edge to the depths below; as did wretched ill-clad famine victims, searching for means of food and shelter so many years ago. What chance did they have against the harshness of the mountain and the stony hearts of man?" Carr's focus has widened recently taking her to the Burren, and for her most recent collection to Achill Island.
---
Moments, Colours & Effects, 2008 - "There is never one day the same as another, here in Connemara, not even from the same place. There is always some reflection, light or colour, that will make me stop the car, and try to "catch the moment", often mixing my colours even before setting up my easel, to be sure to get my colours and all important tones right.
Seasons are never the same either. Spring '07 was all clear blue – with incredible blues in lakes and rivers; and the wonderful change to Autumn colour, can also be different year by year – 2006 was pinks and ambers, whereas 2007 is rich chestnut, orange and deep red.
Another amazing effect, usually in July as the big grass flatters – sunlight from certain angles makes it shine pink and silver. Lastly, as the sun gets lower in winter – suddenly a shaft of light through the clouds will light the sea with brilliance and sparkle.
These are all special "Moments, Colours and Effects", not always noticed, unless you are lucky enough to be there."
Rosemary Carr, August '08