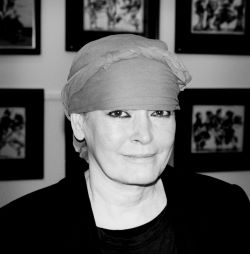 Gertrude Degenhardt
Gertrude Degenhardt is one of Germany's leading painters and graphic artists. She came to Ireland first in the early nineteen seventies, when she was commissioned to do some illustrations for a German edition of a book of short stories by Liam O'Flaherty. She fell in love with the West of Ireland and has been coming here ever since.
Gertrude is a workaholic. She is constantly drawing, sketching, etching and recording. Most of her dry-point etching is done on site - on the landscape, or in the pub, hence its fluidity and spontaneity. There is also an element of caricature about the work. While there is a Germanic influence evident in her etchings, many of them are quintessentially West of Ireland. The Spiddal area remains the inspiration, though recent visits to Doolin have produced some superb graphics.
Her exhibition in the Kenny Gallery, Galway in August 1989 was entitled "Farewell to Connaught". It consisted of 65 dry-point etchings selected from her vast portfolio relating to the West. The exhibition also included ten four-plate colour etchings. The result was a show of remarkable perception, a vision of the West from one who lives abroad, but who obviously has a wonderful affinity with this part of the country. It is a portrait of our area as seen through its cottages and pubs, its rocks and stone walls. But most especially as seen through its people, its shawled women, its musicians and above all its pint-drinkers.
She has produced a number of exhibitions for the Kenny Gallery in Galway. These include "Women in Music" - a series of some seventy images of female musicians, often playing the most extraordinary instruments. These studies were of rare quality, witty and often wickedly funny - transforming the gallery into a magic room in Galway. Other exhibitions include "Vagabondage", "And Passes By" and in 1996 "Paradise Lost".