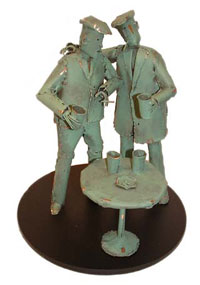 Patsy & Gabriel Farrell
Patsy and Gay Farrell are brothers, native Galwegians, partners in a garage business, and natural talents. They have had no formal training, and neither can tell you when they first became interested in art. They started 'messing about with materials', wood and metal, having fun, enjoying themselves, becoming craftsmen. Having mastered their materials, each has, in his own personal way, developed his work into an art form.
They occasionally work together - many will remember the extraordinary, larger than life sculpture of Jack Charlton they created from used oil drums. Each of them has developed their own style, distinctly different from the other.
Patsy
Patsy started off as a wood carver, taking lessons from Larry O'Kelly. He is still interested in the medium, but once he discovered paint, and particularly pastel, he was off on a personal journey of experiment, excitement and discovery. He loves exploring the landscape, and does not feel the need to travel far. He has been recording the area of Cappagh, where he lives, as it undergoes rapid change, and is gradually covered in developers' concrete.
He loves Connemara, which never fails to provide him with inspiration and new material. There is a familiarity about his subjects, and an obvious sense of pleasure in his presentation of light and shade, and colour which makes the familiar seem fresh and different. This is the work of a happy and fulfilled man.
Gabriel
Gabriel's day job has meant welding for many years now. He has always loved the practical application of repairing broken pieces of metal, of linking surfaces together, of fusion. He eventually began to think of using his welding machine more as a tool of expression than construction, of exploring the idea of using it more like a paintbrush in his process. He found the structure constantly shifted its identity, so he learned how to draw in space in a controlled way, with little evidence of hard work.
His great strength is the simplicity of his images - there is no clutter. Essentially his work is the result of "whatever comes into my head, whatever I enjoy doing".