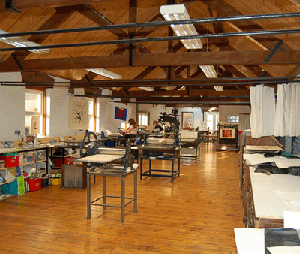 Graphic Studio Dublin is the oldest fine art print studio in Ireland, established in 1960 to promote printmaking and to foster traditional print techniques: its gallery is the Graphic Studio Gallery, Cope Street, Temple Bar. Graphic Studio Gallery celebrated its 20th Anniversary in 2008.
Graphic Studio Dublin (an entirely artist-driven body) has had an extraordinary year in 2008, moving to its stunning large scale studio space, Distillery House, and taking on staff to fulfil its long-term vision to pioneer the best in traditional and new print media, in Ireland and worldwide.
Since 1960, Graphic Studio Dublin has reached into the heart of cultural life in Ireland.
Graphic Studio Dublin facilitates the following print techniques: Etching, lithography, linocut, drypoint, carborundum, woodblock, aquatint, photo etching, blind embossing, collography and mezzotint. Technical assistance and education of artist members in the above printmaking techniques is core to our ethos.
Artist members have had subsidised studio facilities, access to training, and an outlet through which to sell their work. Today the studio has more than 60 members, and a number of associate and affiliate members who use the studios as part of the Visiting Artist's Scheme.
This exhibition represents the first time Graphic Studio Dublin have exhibited as a group in the West of Ireland.
---
Artists
---
Yoko Akino b.1967

Yoko Akino was born in Kyoto, Japan in 1967. She moved to Ireland in 1996 and joined Graphic Studio Dublin. Since then she has participated in many group shows in Ireland and abroad. Recent notable solo exhibitions include When the Wind Blows in Graphic Studio Gallery in Dublin, 2005; Air at Vaga Se in Stockholm, 2006;Yoko Akino Etchings at Artlife Mitsuhashi in Kyoto, 2007.

Yoko was honored with the O'Sullivan Graphic Supplies prize for 'Best Print' at the RHA annual exhibition, 2007. In 2008 she has already participated in a two-person show called 'Is this real?' at the Graphic Studio Gallery in Dublin, and a Graphic Studio Dublin group show at the National Gallery of Ireland, called 'Revelation'.

View works by this artist
Back to top
---
Meadhbh Arthurs b. 1985

Meadhbh Arthurs is a printmaking artist currently living in Dublin, born in Galway in 1985. She studied for four years at the National College of Art and Design in Dublin, completing a degree in Fine Art Printmaking in 2007. During her time in NCAD she was introduced to the processes of etching, screen-printing and lithography.

She took part in her first group exhibition in 2006 at the Cross Gallery in Dublin. Following her degree show exhibition she was selected for a Graphic Studio Dublin Graduate Award. This provided the opportunity to develop her work in a professional printmaking studio. She has taken part in a group exhibition at the Graphic Studio Gallery in 2007, as well as participating in a fundraising show for Graphic Studio Dublin in January of 2008.

View works by this artist
---
Jean Bardon b. 1952

Born in Dublin, she studied at Dún Laoghaire College of Art and Design between 1970 and 1974. She then spent a period living and working in Amsterdam. It was during this time that she developed an interest in printmaking. She became a member of Graphic Studio Dublin in 1990 and since then has exhibited nationally and internationally.

Her work is represented in many collections, both public and private, including the Office of Public Works, the Arts Council, the Chester Beatty Library, the Department of An Taoiseach, AIB, and the Shelbourne Hotel, Dublin. She was an award winner at the RHA Annual Exhibition in 2002.

View works by this artist
Back to top
---
Eilbhe Brennan

Eilbhe believes that to be an artist is a vocation. It becomes a journey in which one is led by inspiration and instinct, her path as an artist led to the National College of Art and Design where she graduated as a fine art printmaker in 2006 and was honoured to receive the Graphic Studio Dublin Graduate Award.

After college she took a year out to travel and generally recharge the batteries and is currently exploring and developing new ideas, therefore she travels on this journey with joyful anticipation as to where it may lead her next.

View works by this artist
Back to top
---
Gerard Cox b. 1954

Gerard Cox graduated from National College of Art and Design, Dublin in 1979 and went to Dusseldorf Art Academy for a Post Graduate Sculpture year. In 1983 he had his first solo exhibition 'Sculptures' in the Project Art Gallery, Dublin and won the Guinness Peat Aviation Awards for Emerging Artists. Since then he has exhibited sculpture in solo and group exhibitions in Ireland, England, Germany, Korea and Japan. Gerard was a founder member of 'Sculpture in Context' in 1985.

He has completed public and private commissions and participated in symposia in Ireland, Germany, Austria and Korea. In 1999 Gerard began making woodblock prints. He joined Graphic Studio Dublin in 2002 and continues to produce woodblock prints for group and solo exhibitions. Recently Gerard began painting and last year his exhibition 'Vibrant Vistas' was shown in the Customhouse Gallery, Mayo. At present Gerard is making work for two solo exhibitions to be held in late 2008.

View works by this artist
Back to top
---
Gráinne Cuffe b. 1957

Grainne Cuffe is a graduate of Dún Laoghaire College of Art and Design. She studied Printmaking at Tamarind Institute New Mexico, St Martins London, and Grafico Uno Milan. She has been a member of Graphic Studio Dublin since 1985 and was a member of the BCPS. She is a Fulbright alumni.

Since 1990 she has shown at RHA Annual Exhibitions, Lemon Street Gallery, Royal Academy London, European Large Format Printmaking Exhibition and London Contemporary Print Fair.

View works by this artist
Back to top
---
Caroline Donohue b. 1977

Caroline Donohue graduated from the National College of Art and Design with a Degree in Fine Art Print Making in 2005.Her work is in the public collections of The Office of Public Works and AXA Insurance and various private collections. Donohue is currently a member at The Graphic Studio Dublin, and was the winner of the RDS Print Making Award in 2005.She works mainly in the mediums of print, assemblage and photography. . Caroline's past work has been in numerous group exhibitions including, the graduate show in Irish Museum of Modern Art 2005, and more recently a site specific exhibit 'On Reflection' on Cows Lane, and 'Undercover' at the Graphic Print Gallery.

This body of work focuses on the area of print, these etchings are of an intimate nature exploring ongoing themes such as; the poetics of space, the passage of time, longing and escapism. Looking to the 19th century aesthetics for her inspiration, Donohue explores notions of spectacle, our need to collect and contain objects of desire, reminiscent of the "philosophy of having", popular at the time evident in the Cabinets of Curiosity and The Natural History Museums. In these uncanny interiors time has been suspended, they contain poetic possibility, a promise of escape, enticing the onlooker who becomes enveloped by this intricate private world of the collector of things. These rooms become abodes for daydreaming and reflection, attention is required so that miniature details can become apparent. There is an assurance in repetition within her work and obvious love of the detail.

View works by this artist
Back to top
---
Cliona Doyle b. 1968

Cliona Doyle was born in Dublin in 1968. She studied fine art at National College of Art and Design, Dublin. She received an Honours Degree in fine art in 1991. Since then Cliona has been a member of Graphic Studio Dublin and has exhibited widely at home and abroad.

Her work has been exhibited in The National Gallery of Ireland, Dublin, Dublin City Gallery The Hugh Lane, The Chester Beatty Library, Dublin and The RHA, Dublin. Her work is in many public and private collections. Cliona is a director of Graphic Studio Dublin and she teaches etching classes and drawing workshops.

View works by this artist
Back to top
---
Niamh Flanagan b. 1979

Niamh Flanagan studied Fine Art Printmaking at the National College of Art and Design, Dublin. She graduated in 2002 with a commended 1st Class Honours and is now a member of Graphic Studio Dublin.

Her first solo show Dwellings of Mind and Space was held at The Printmakers Gallery, Dublin in 2007. Following on from the success of this exhibition she has been invited to take part in various forthcoming exhibitions including Artist's Proof at the Chester Beatty Library, and Graphic Studio Dublin at Centre Culturel Paris (2009). She has taken part in residencies and exhibitions in Oslo, Slovenia, Cork, Donegal and Dublin. Awards include Arts Council Mentorship Scheme, Travel and Training Award and a grant from Culture Ireland.

View works by this artist
Back to top
---
Clare Henderson b. 1981

Clare Henderson was born in Dublin in 1981. She began her art training in Ballyfermot Senior College and went on to study Fine Art Print in the National College of Art and Design. On graduating in 2005 she began printing in Graphic Studio Dublin, having received the Graphic Studio Dublin Graduate Award.

There, with the help of studio staff and members, she has furthered her printing practice to create a body of work based around ideas relating to the human condition. She enjoyed her first solo exhibition in Monstertruck Gallery in 2006 and since then has exhibited in the Talbot Gallery, Graphic Studio Gallery and most recently the National Gallery of Ireland.

View works by this artist
Back to top
---
Back to top
Siobhan Hyde b. 1965

Siobhan Hyde graduated in fine art print from the College of Marketing and Design (DIT) and has remained in the field of printmaking ever since.

She has traveled across the diverse mediums of print processes including woodcut, silkscreen and etching and is a regular contributor to Graphic Studio Gallery group shows. Since joining Graphic Studio Dublin in 1990 she has also editioned prints by renowned Irish and international artists for the studio's visiting artists programme. At present she is studying for a degree in art history.

View works by this artist
Back to top
---
Desmond Kenny b. 1956

Desmond began making art 23 years ago. He joined Graphic Studio Dublin 4 years ago. He uses the term V.E. to denote a varied edition of prints. Each print can be subtly or radically different in colour, titles may change, extra figures added as he sees fit. Each print is a new creative act and is open to many possibilities. The only definitive act is his signature and the edition size. This is outside normal printmaking practice where each print is identical.

His printmaking runs in tandem with his painting processes, where his painting is subject to constant change until sold. He has always liked the story of Bonnard repainting sections of his paintings, hanging in the Luxembourg, while a friend distracted the guard. This process of printmaking may not appeal to many but he cares less, making art is more important then appealing to the status quo.

View works by this artist
Back to top
---
Brian Lalor b. 1941

Born in Cork, Brian Lalor is a printmaker and writer. His work has been exhibited internationally and is in many public and private collections. He works principally in etching, woodcut and mezzotint, largely in black and white, and has used his prints to accompany both his own and other's texts, most notably in a series of woodcuts for Oscar Wilde's 'The Ballad of Reading Gaol'.

He has had 22 solo exhibitions internationally and is currently chairman of Graphic Studio Dublin and represented by Graphic Studio Gallery. He is a member of the executive committee of the National Library of Ireland Society.

View works by this artist
Back to top
---
Jennifer Lane b. 1952

Born in Dublin, Jennifer Lane studied at the Dún Laoghaire College of Art and Design in the early 1970s. Shortly afterwards she joined Graphic Studio Dublin, where she worked initially in lithography. Later she turned to woodblock printing, in which she specialises now.

View works by this artist
Back to top
---
Stephen Lawlor b. 1958

Born in Dublin 1958, from 1980-83 he studied Visual Communication at the National College of Art and Design (NCAD), Dublin.

In 1984 joined Graphic Studio Dublin and started working as a printmaker in etching and lithography. Worked over the following years with many Artists and developed a wide range of skills, knowledge and technical expertise.

From 1989-1991 he lectured in life drawing at Dún Laoghaire College of Art and Design (DLCAD). Then from 1991-1996 Lecturer in printmaking at DLCAD. From 1991-2001 he established Artemis to distribute prints throughout Ireland and develop awareness and an income for artists involved. This included exhibitions at venues including Model & Nyland Museum, Sligo, West Cork Arts Centre, Skibereen, Yello Gallery, Kinsale, The Vanguard Gallery, Cork and the Kenny Gallery, Galway, among many others.

In 1998 he joined the Board of Graphic Studio Dublin and in that same year was one of the principal initiators and was chiefly responsible for co-ordination of Art Into Art at the National Gallery of Ireland in Dublin. In 2001 was elected Chairman of Graphic Studio Dublin and remained in that role until 2005. In 2002 he was fully responsible for initiating and developing Holy Show in association with the Chester Beatty Library, Dublin. He is one of Irelands leading printmakers and is in collections worldwide and has developed a growing reputation as a painter and sculptor. Stephen is represented in Dublin by Hillsboro Fine Art and the Graphic Studio Gallery in Dublin. He works and lives in Dublin.

View works by this artist
Back to top
---
Maev Lenaghan b. 1979

Born in Galway, 1979 Graduated from the National College of Art and Design in 2002. Exhibits regularly in Graphic Studio Dublin group shows. These include The Garden of Earthly Delights in the Chester Beatty Library, The Cracked Looking Glass commemorating James Joyce's Ulysses and Revelation in the National Gallery of Ireland.

International exhibitions have included the 5th British International Miniature Print Exhibition 2003, La Biennale International d'estampe de Trois Rivieres, Quebec, Canada 2005, V International Biennial of Drawing, Pilsen, West Bohemia, Czech Republic 2006 and the 4th International Engraving Biennial of Duoro, Portugal 2007.

View works by this artist
Back to top
---
Louise Leonard b. 1960

Louise Leonard was born in Dublin, and studied at the National College of Art and Design, graduating with a BA in Visual Communication in 1983. Louise established a graphic design partnership on leaving college specializing in illustration.

Her work is published by The Educational Company Ireland, Fallons, Gill & MacMilan, Poolbeg, The Department of Education and the European Commission Representative in Ireland, Office of Public Works and Schroedel, Germany.

View works by this artist
Back to top
---
Pamela Leonard b. 1940

Pamela Leonard graduated from the National College of Art and Design in 1964. Her love of landscape has led her to create images set in areas she knows well, giving them an enduring and timeless quality. She has designed 16 stamps for An Post and won an award in Japan for stamp design. D. O' Sullivan Graphic Supplies awarded her the prize for Graphic Work of Distinction at the Annual RHA Exhibition in 1991.

She has been a member of Graphic Studio Dublin for twenty years and has had numerous exhibitions both paintings and prints. Her work is in the National Self-Portrait Collection of Ireland and the Watercolour Society of Ireland's permanent collection, both at the University of Limerick. Other collections, which hold her work, include the Office of Public Works, the Arts Council, P&O Cruises UK, and HQ Global Work Places (The Netherlands).

View works by this artist
Back to top
---
Andrzej Mazur b. 1979

Andrzej holds Fine Art Degrees from University of Maria Curie Sklodowska in Lublin, Poland. His work is always about communication and the complexities of human relationships and his greatest inspiration is a single human being. The inspirations are deeply rooted in himself; it is a state of mind. It is a relation between art and beauty of people, between art and violence. Some of his images are derived from photos of real people, others are inspirited by classic masterpiece of art.

His work and research explore conceptual relations between cognitive processes, languages and cultures. His inspiration is a complexity and depth of single individual feelings, getting out of mental barrier. In his works he is trying to connect the way, which forms states human anxiety, intimate and difficult to articulate states. He is looking for a path, which in a strange and unexpected way will guide him through difficult and sometimes sensitive emotions.

View works by this artist
Back to top
---
James McCrearyAosdána b. 1944

James McCreary was born in Dublin in 1944. He worked at Harry Clarke's stained glass studio between 1960-1963. From 1964-1978 he worked as a steel erector from Smith & Pearson's structural engineering works. In 1973 he joined Graphic Studio Dublin, studying etching and lithography, which led to him becoming Studio Manager in 1980.

He set-up the Visiting Artists' programme, which introduced many of Ireland's leading artists to printmaking over the past twenty-five years. Along with Mary Farl Powers and James O'Nolan he was responsible for the setting up of Graphic Studio Gallery in Cope Street 1988. James McCreary was a Director of Graphic Studio Dublin from 1989-2000, a committee member 1975-2004. In 2004 he left his position as Studio Manager in order to concentrate solely on his own work.

In 2005 James was invited to become a member of Áosdana.

View works by this artist
Back to top
---
Margo McNulty

Margo McNulty was born in Achill Island, County Mayo. She studied painting and printmaking in GMIT, Galway. She was awarded a Post-Graduate Scholarship to study in Belgium and afterwards she lived and worked in London. She completed her Masters in Fine Art Print at the National College of Art and Design in Dublin in 2002.

Her work is in many collections including: The National Gallery of Ireland; The Bank of Ireland and A.I.B. collections; The Folklore Section in UCD; The Office of Public Works; and Roscommon, Mayo and Westmeath County Councils.

View works by this artist
Back to top
---
Eilis Murphy b. 1980

Born in Mayo in 1980, Eilis Murphy lives and works in Dublin. She studied Fine Art at the National College of Art and Design and graduated with a first class honours degree in print in 2004. Her work has been shown, in both solo and group exhibitions, throughout Ireland, including at Galway Arts Centre; Goethe Institute, Dublin; NUIG Gallery, Galway; Custom House Gallery, Westport; RDS Student Exhibition and Project Arts Centre in Dublin.

Eilis was awarded the CAP Foundation residency, bursary and exhibition (Dublin 2004 - 2005), a residency at Custom House Studios in Westport (2005) and an internship in The Centre for Book Arts in New York (2003). Her practice involves unearthing fragments of local folklore and social heritage. She is intrigued by the way a snippet of a story or rumour develops and becomes fact, attaining mythical status by word of mouth. Using sites and stories to which she has a personal connection, her work explores wider issues, such as local identity, heritage and belief systems.

View works by this artist
Back to top
---
Philip Murphy b. 1941

Philip Murphy was born in Tipperary and attended the National College of Art and Design. He taught jewellery and sculpture at NCAD. He has been in sculpture exhibitions in Crawford Cork, Paris and Monaco.

Since 2008 he has been concentrating on working as a printmaker at Graphic Studio Dublin. He shared joint second prize in the Graphic Studio Dublin Port Print Exhibition in 2007. He has exhibited in Limerick and Dublin; and was accepted in the Miniature Print Exhibition Ottawa 2008. Philip intends to concentrate in the future on experimental printmaking.

View works by this artist
Back to top
---
Niall Naessens b. 1961

Niall Naessens was born in Dublin in 1961. He attended the National College of Art and Design 1978-1983. He studied etching at Graphic Studio Dublin 1983-1986. He worked in London from 1986-1990. He was artist in residence in City Arts Centre, Dublin, from 1991-1993.

From 1991 to 2006 he worked as a professional printmaker at Graphic Studio Dublin. In 2004 he moved to Brandon in Kerry and has set up his studio there with a view to concentrating more on painting. He was a Director of Graphic Studio Dublin from 2001 to 2006. In 2007 he set up Cló Cill Rialaig, which he is running on behalf of the Cill Rialaig Project in Ballinskelligs, Kerry.

View works by this artist
Back to top
---
Deirdre Nolan b. 1968

Deirdre Nolan was born in 1968. She studied Fine Art Painting at the Dublin Institute of Technology and subsequently Art and Design Education at the Crawford College of Art, Cork. She later completed a MA course in Media Studies in 2004. She has worked in the Theatre and in Graphic Design and studied printmaking in both Germany and Italy, where she participated in group shows. She currently teaches Art and Design. She joined Graphic Studio Dublin in 2007.

View works by this artist
Back to top
---
Liam O'Broin b. 1944

Liam O'Broin who's work is in the National collection and has been purchased by the Arts Council of Ireland has worked in several media over the last thirty five years. Firstly in printmaking at Graphic Studio Dublin under John Kelly- eventually teaching lithography. Studied tapestry weaving under Evelyn Lindsay at the National College of Art & design and worked with Patrick Pye on two woven pieces in the 1980's. Also worked at Dublin Art Foundry.

Also studied silkscreen at NCAD. Took up painting in the late 1970's exhibited regularly at the Oireachtas and independent artists exhibitions in the 1980's. He held a joint exhibition at Kilkenny Design Dublin with Goefrey Healy potter of decorated plates and jars based on the theme " The Song of Songs". Worked at Leinster Print Studio Clane and now currently working at Graphic studio Dublin.

View works by this artist
Back to top
---
Ruth O'Donnell b. 1952

Galway born artist Ruth O'Donnell studied at University College Galway from 1969 to 1972 and at the Institut Saint Luc in Brussels from 1986 to 1990. She has been a member of Graphic Studio Dublin since 1991 and between 1996 and 2000 was also a member of Artichoke Print Studio London.

In her still life prints she works in series, exploring the expressive and formal aspects of the genre. Starting from diary-like sketchbooks and idea based working drawings, she reworks the imagery in compositions where more abstract considerations are taken into account, such as the relationship of pattern and form, repetition and variation.

View works by this artist
Back to top
---
Noelle O'Keefe b. 1962

Noelle O'Keeffe, a native of Killucan, Co. Westmeath graduated with an honours degree from the National College of Art and Design, Dublin in 1991. She has exhibited widely since then, including shows in the Solomon Gallery Dublin from 1992 to 2000, Midlands Arts Resource Centre Mullingar, the Hallward Gallery, Dublin and regularly since graduation at the RHA annual exhibition. She has participated in Boyle Arts festival, Claremorris Open Exhibition, Iontais Sligo, Eigse Carlow, Kilkenny Arts festival, and Wexford Opera Festival. She has also shown work in Germany, Belgium, and most recently in the UK in the Wykeham Gallery in Hampshire.

Her work is in numerous Collections including AIB, Bank of Ireland, Office of Public Works, Irish Pensions Trust, Minerva Medical PLC, Aeromexico, Jury's Hotel Group, Health Service Executive, and Hampshire County Council, as well as private collections in Ireland and abroad. Noelle currently lives in Dublin where after a three year break following the birth of her son she has now resumed painting in her studio as well as printmaking in Graphic Studio Dublin.

View works by this artist
Back to top
---
Geraldine O'ReillyAosdána b.1956

Geraldine O'Reilly was born in 1956. She lives in Killucan, Co Westmeath where she has a studio. She received a degree in Fine Art (Painting) from the National College of Art and Design in 1983. In 1989 she received a Fulbright scholarship to continue her studies in New York City. She joined Graphic Studio Dublin in 1994 and was elected a board member in 2006. She was honoured for her contribution to the Arts in 2004 when she was elected a member of Áosdana.

To date she has had over 16 one person exhibitions and shown in countless group exhibitions. Her work is featured in many collections most notable; Maurice and Marie Foley Collection at IMMA, National Gallery of Ireland, Chester Beatty Library, National College of Art and Design, McMullen Museum, Boston College, USA, State University of New York (SUNY), the State University of Texas, Lois Torf Print Collection, Boston, USA, University of Tasmania, Australia, Office of Public Works, Trinity College and RTE.

Her most recent exhibition 'A Circuitous Line' was accompanied by a fully illustrated catalogue of her work with essays by the writer Dermot Healy and the Irish Times art critic Aidan Dunne. She has been awarded a number of Arts Council awards. She has also been awarded a number of important residencies at The Banff Centre in Canada, The McDowell Colony, New Hampshire, USA, University of Tasmania, Australia, Artist's Work Programme at IMMA and several residencies at the Tyrone Guthrie Centre in Monaghan.

View works by this artist
Back to top
---
Caroline Patten b. 1974

Caroline Patten was born in Achill in Co.Mayo and is a graduate of National College of Art and Design. She has been a member of Graphic Studio Dublin since 2004 and exhibits regularly in group shows at Graphic Studio Gallery in Temple Bar, Dublin.

She currently works as an editioning printmaker at Stoney Road Press in Dublin.

View works by this artist
;
Back to top
---
Robert Russell b.1960

Born in Dublin, Robert Russell attended Dún Laoghaire College of Art and Design from 1979. He specialised in sculpture, but also worked in print and painting, winning the Taylor Art Competition for painting in 1980. He received the Alfred Beit Award and the Norah McGuinness Award before graduating in 1983.

Robert is Studio Director at Graphic Studio Dublin, and has been a member since 1989. In 1999 the Chester Beatty Library commissioned him to make an etching, a woodblock print and an engraving to demonstrate printmaking techniques for a video displayed in the library. They also acquired one of his mezzotints for their permanent collection.

Exhibitions include a solo show at Graphic Studio Gallery, Art into Art at the National Gallery of Ireland, Holy Show at the Chester Beatty Library, Ireland France Print Exchange, Paris. He exhibited at the RHA Banquet Show as guest of Patrick Hickey.

View works by this artist
Back to top
---
Joe Ryan b. 1968

Lives and works between London and Dublin, Studied at Middlesex University and University of east London, where he will be undertaking doctoral research in Fine Art. Currently on a residency in Mountwood Community development Project involving establishing a gallery within the centre which is run by user groups. He is setting up a dialogue where youth groups engage with local community, through a series of commissions and site specific murals.

Currently working on a series of large scale etchings inspired by Piranesi's "Imaginary prisons" series. Has exhibited widely in the U.K. and Ireland and held in collections in Asia.

View works by this artist
Back to top
---
Jenny Spain b. 1983

Jenny Spain was born in Dublin and she recently completed her degree in Fine Art at the Dublin Institute of Technology in May 2007. Jenny was included in an exhibition to showcase graduate work that was held in the Dame Street Gallery, Dublin.

She was awarded with 'The Best use of Printmaking' prize by D.I.T and also a Graphic Studio Dublin Graduate Award. This enabled Jenny to continue printmaking and develop her skills. Since being invited to join Graphic Studio Dublin as a member, Jenny has contributed to Graphic Studio Gallery's group shows.

View works by this artist
Back to top
---
Adrienne Symes b. 1946

Adrienne Symes works in a variety of mediums including painting and printing. Water is a recurring theme in her paintings, mostly large scale seascapes showing the intimacy of rock pools, ponds, riverbanks and the power of the sea. This theme sometimes carries through to her etchings. The mysterious quality of water appeals to her, its power to give life or take it away. It distorts that which is reflected in it; it is rich in colour yet colourless.

In 'Waiting II' there is a certain meditative quality as a child sits wrapped in a towel on a Kerry beach huddled looking out to sea, waiting, but waiting for what? Waiting for the tide to turn? The use of one colour in this work adds to the mysterious feeling. The two still lives are a contrast to 'Waiting II'. 'Onions II' depicts the paper thin skin of an onion which is emphasised by the delicate use of line and pale colour, while in 'Apple Group' we see a discarded apple butt and another uneaten apple in which the dark tones emphasise its solidness.

View works by this artist
Back to top
---
Ciaran Tuite b. 1970

Ciaran Tuite was born in Dublin and was educated at Belvedere College and University College Dublin. He attended DIT (Mountjoy Square) Fine Art degree course from 2001 through to 2003. It was here he learned about printmaking and etching. The following year under the stewardship of master printmaker Anthony Lyttle at National College of Art and Design, he further developed his printmaking skills.

Having completed a masterclass program in early 2005 he was able to become a member of Graphic Studio Dublin later in 2005. Since then he has devoted a huge amount of his efforts to painting, producing large abstract figurative pieces, all of which are held in private collections. His painting has brought him back to etching and aquatint. He currently lives and works in Dublin.

View works by this artist
Back to top
---
Katherine Van Uytrecht b. 1980

Katherine was born in 1980 in Johannesburg, South Africa. She studied Printmaking at the Michaelis School of Fine Art at the University of Cape Town where she graduated with a major in Lithography in 2002.

After graduating, Katherine moved from South Africa to Dublin. She joined Graphic Studio Dublin in 2004. Since then she has been editioning prints for Graphic Studio Dublin, Stoney Road Press and privately for other artists and members. She is currently Studio Assistant at Graphic Studio Dublin.

View works by this artist
Back to top
---
Marta Wakula Mac b. 1979

Marta Wakula Mac was born in 1979 in Nisko, Poland. She graduated from the Institute of Art, Pedagogical University in Krakow in 2003 with a Master's Degree in the field of Fine Art Education. Since then she has been living and working in Dublin. She joined Graphic Studio Dublin in 2004 where she has worked and developed linocut and etching techniques.

Her work is in many collections public and private including: Muzeum Archidiecezjalne, Poznan, Poland, National Gallery of Ireland, Dublin, Ireland and Civic Museum of Cremona, Italy.

View works by this artist
Back to top
---