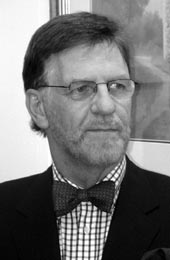 Kieran Tobin | A Hint of Autumn, seasonal paintings, September 2018
The official opening of an exhibition of new paintings by artist Kieran Tobin takes place on Friday 7th September at The Kenny Gallery, Galway. Musical legend BILL WHELAN, composer of Riverdance will be the guest speaker at Kenny's Liosbán Gallery at 6.00pm on the 7th.
Apt to ease us artistically into the season, 'A Hint of Autumn' will be Tobin's fifth solo exhibition at the Kenny Gallery since his first twenty years ago. He has had two one-man shows in the United States and has participated in many group shows.
ABOUT THE ARTIST
Kieran Tobin is a native of South Tipperary, a graduate of NUI Galway who practised as an E.N.T. surgeon for many years. He always took a keen interest in art and began to paint as a hobby and as his interest grew, he found himself devoting more and more time to this pastime, usually working in watercolours and acrylics. Once he discovered pastels, he was completely hooked, so he took early retirement in 2004 to devote himself to painting full time. In recent times, he has moved on to include oils in much of his work.
In his earlier years, he spent many happy hours fishing and this probably helped to develop his keen interest in nature and in the landscape in particular. The sense of peace he found on the water permeates his paintings. His early work was focussed on studies of trees and various types of woodland, but gradually Connemara and west Mayo began to weave their magic on him. From his studio he sets out to explore and record the hinterland, his long walks through the bog creating for him a new awareness of the nuances of colour, of how the reflection of cloud and skies can be seen on the little lakes, of the sometimes primeval landscape untouched by humanity. He loves the quiet unspoilt corners and while his paintings are topographical, they are also imbued with the spirit of the place. For Kieran, the act of painting is an all-embracing experience.
The exhibition continues daily, Monday to Saturday, 9.00-17.00 until 5th October - admission is free, all are welcome, and the paintings are available for sale.