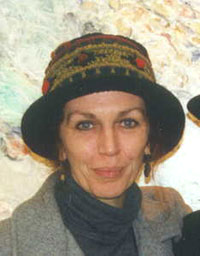 Stef Callaghan
Stef Callaghan was born in Malaysia in 1954. One of five children she and her family lived all over the world before settling in Australia. It was in Tasmania that she met her artist husband George.
She went to college late in life to study Art Theory. Stef started painting in 1994 and she has exhibited in Perth Western Australia and in her hometown of Hobart in Tasmania. She is a frequent visitor to Ireland and shows her work at The Kenny Gallery in Galway.
Her figurative work is character based and she enjoys the involvement and interactions of women as they proceed with their daily life. She draws great inspiration from Ireland's rich tapestry of people.