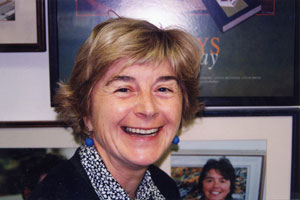 Clare Cryan
Clare Cryan was born in Dublin, and educated in Sion Hill, and subsequently at the National College of Art, and the Belfast College of Art. She was appointed as Master of the Preliminary School of the National College of Art, and worked there for four years before resigning to develop her own work.
In 1971, she founded the Blue Door Studio in Ballsbridge, and since then has become one of this country's most noted art teachers, with many of her students making a significant contribution to Irish painting.
She held her first solo show in Belfast, and since then has had many solo exhibitions in Wexford, Dublin, in England and Galway. Her work has featured regularly in the R.H.A., the R.U.A. and the Oireachtas exhibitions in Ireland, and many such exhibitions in the U.K. In 1987, she was elected a Member of the European Institute of Watercolours, and since then has exhibited in Brussels, Paris, Antwerp, The Hague, and Luxembourg. For several years she represented Ireland at the Festival International Paris-Osaka Exhibition, which toured Japan. She was also invited to show in the Salon Hong Kong.
Clare Cryan is modest about her work, but her technical brilliance, her original ideas, her poetic renderings and sensitive interpretations have resulted in many successes, at home and abroad.
All of the traditional nuances, values and technical demands of the watercolour medium are evident in abundance in her work - landscape, still life, floral and figurative.