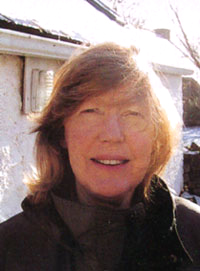 Ros Harvey
Ros Harvey comes from Malin Head in Co. Donegal, Ireland. She worked in Dublin as a potter from 1968-1979 and then in England until 1989. She set up a studio at Malin on her return to Ireland, where she paints and makes prints.
Ros has exhibited widely in the last few years, including the Royal Hibernian Academy, Dublin; Iontas Small Works Exhibition, Sligo; Forge Gallery, Co. Louth; The Davis Gallery, Dublin; The Kennedy Gallery, Dublin; Milltown House Gallery, Lisburn, Co. Down; Rara Avis in Co. Down; The Kenny Gallery Galway and An Damhlann.
She was Guests' Choice prize winner in 1995 at the Laing Exhibition in the Mall Galleries, London, with her series "Rider from the Sea".
Ros Harvey is mainly a landscape and seascape artist, but she has illustrated two books specialising in animals and birds.
Her favourite medium is pastels, but as well as oils and watercolours, she makes prints - etchings and linocuts.
She has exhibited her prints in the Iontas Small Works Exhibition in Sligo on two occasions in Galway at the end of 1995.