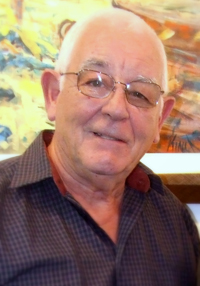 Jim Kinch
Jim Kinch was born in Dundalk, Co. Louth. He studied in Dundalk Technical College and with Belfast painter Hugh McCormick. However, it's probably true to say that he is primarily self-taught. He was active in local art in the 1970's, being founder and chair of the Dundalk Art Forum.
Jim and his family moved to South Australia in 1973 and continues to live his dream life next to the sea and the beach, which remain his greatest sources of inspiration even after thirty years.
Painting mostly in isolation, he developed his strong impressionist style. This has evolved into a 'figurative expressionism' style, which is an ideal vehicle for his chosen subjects of life and action. Jim brings art into the popular arena and it is said, "he does not paint feathers, he paints flight". He has been described as been heavily influenced by the great Jack Yeats, John Singer Sargent and America's Leroy Neiman, with the figurative influence of Toulouse Lautrec.
In 1990 he started to exhibit in group exhibitions, and became a regular prizewinner. These prizes were instrumental in gaining invitations to hold solo exhibitions, and success here was a factor in his decision to become a full time painter in 1997. A career in design and marketing give him regular opportunities to visit the great art galleries, and give him constant involvement with most aspects of the visual arts.
With many Australian and overseas exhibitions to his credit, including two sell-outs in Ireland, Jim says, "I need to succeed to insure that I have the opportunity to continue to develop my work. It is this journey that I enjoy that interests me." This down to earth approach, and the variety of his subject matter, ensures his popularity for Artist's Workshops, and ever increasing demand from collectors and corporate clients in a number of countries.
---
"Why the urge to create or paint? Like the need to read, write, play the piano, sing or even just play, painting is an escape to a magic world, where the mind is free, without any constraints, except your ability, materials and imagination. What other activity could let you wander through the magic scenery of Ireland, the canals of Venice, an outback pub, a golden beach and a race meeting all in one day, without leaving the studio? Long many the urge last."
Jim Kinch
Selected Exhibitions, Commissions & Collections:
| | |
| --- | --- |
| 2006 | Solo Exhibition The Kenny Gallery, Galway, Ireland |
| 2003 | Solo Exhibition The Kenny Gallery, Galway, Ireland |
| | Solo Exhibition Dundalk, Ireland |
| | Rainall Fie Art, London |
| | Kensington Gallery Anniversary Exhibition |
| | Zanadu Exhibition, Western Australia |
| 2002 | Commission - Hong Kong |
| | Solo Exhibition in Delshan Gallery, Melbourne |
| | Private Commission - New York |
| | Solo Exhibition Kensington Gallery, Adelaide |
| 2001 | Solo Exhibition in Gallery Without Pier, Melbourne |
| | Continuous Exhibition in Qantas Lounges |
| | Solo Exhibition in Butlers House Kilkenny Castle, Kilkenny |
| | Group Exhibition - The Art of Hurling, The Kenny Gallery, Galway. One image was selected for the promotional poster. |
| | Two paintings purchased by the Guinness Group for their private collection. |
| | Two paintings purchased by Dunne International Dublin and featured in the Powerscourt Exhibition. |
| | Paintings purchased by the Institute of Technology Tallaght, Dublin for their private collection. |
| | Suite of 'Pub Series' paintings Qantas Lounges, Darwin, Brisban, Sydney, Melbourne and Adelaide |
| 2000 | Solo Exhibition in Gallery Without Pier, Melbourne |
| | Continuous mixed exhibitions in Qantas Lounges |
| | Solo Exhibition in Newry, Northern Ireland |
| | Private Commissions - New York |
| | Solo Exhibition Delshan Gallery, Melbourne |
| | Solo Exhibition Kensington Gallery, Adelaide |
| | Solo Exhibition Tomlinson Gallery, Adelaide |