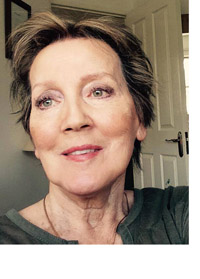 Selma McCormack
Selma McCormack lives and works between Spiddal and Dublin. Selma studied painting and sculpture part time for many years before starting to exhibit her work in the late 1980's.
Originally her sculpture consisted of clay and wax modelling and she later exhibited bronze casts of her work. Generally figurative in subject matter, she continues to produce works in bronze, and occasionally in ceramics - especially of the figure in motion and of animal studies.
Selma followed her early success in sculpture by developing her own distinctive painting style from the early 1990's. Her influences include Robert Motherwell, Patrick Heron and Nicholas de StaŽl among others.
Her time is divided between the two disciplines of painting and sculpture. She approaches each with equal enthusiasm.
"These paintings have a deep sensitivity suggesting themes beyond the obvious. This is art in motion and can at times be simultaneously formidable and comforting."
Fred Johnston
"These images, both two and three dimensional, are composed and finally consciously selected for display to best effect in the mind of the artist, and we the viewers marvel at the sense of immediacy. Selma McCormack has revealed to us some of the better aspects of the art that conceals art, and we have been privileged to witness the creative actions of the dreaming mind."
Gerry Walker - N.C.A.D.
"Selma McCormack's gift of shaping material in a delicately balanced way is abundantly evident. These bronzesÖ are of course not just pieces of shaped material; they are finely turned embodiments of moments in time, of actions, of relationships and even of states of mind. This is sculpture at its most artful, most expressive and most humane."
Tom Duddy
Selected Solo Exhibitions
2005 - Russell Gallery, Newquay
2004 - Kenny Gallery, Galway
2001 - Kenny Gallery, Galway
2000 - United Arts Club, Dublin
1998 - Kenny Gallery, Galway
1996 - US Embassy, Dublin
1995 - Kenny Gallery, Galway
1994 - Carroll Gallery, Longford
1990 - Caldwell Gallery, Dublin

Selected Group Exhibitions
Íontas
Oireachtas
RHA
RUA
Claremorris Open
Sculpture in Context
Solomon, Dublin
Hallward, Dublin
Lavit, Cork
Bell, Belfast
Eakin, Belfast
Gormally, Dublin/Belfast
Kilcock Art Gallery

Selected Collections
Guinness, Dublin
Goodbody Stockbrokers
Revenue
K.P.M.G.
All Ireland Media
Larkin Partnership
McConnell Advertising
Peter Owens Advertising
Irish Active
Dublin Corporation