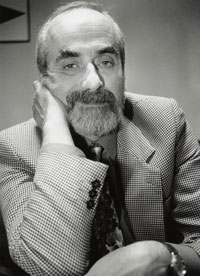 Hugh McCormick (1943 - 1999)
Born in Dublin in 1943 he was raised and always considered himself a native of Northern Ireland. He studied art in Belfast and London, graduating in 1964. He moved to Galway with his young family in 1975 where he took up the post as Head of the fledgling Department of Art & Design in the new Regional Technical College (GMIT).
Enthralled by the light and "immense sky" of the West of Ireland, and especially that of his beloved Burren, McCormick augmented his earlier staple of portraits, nudes, still life studies and cityscapes with bold and expressive landscapes. As "Harland and Wolff" gave way to Corrib Islands McCormick used diverse locations, indeed as far afield as New Zealand on a 1993 trip, as a framework to express his own imaginative style. In the artist's own words "it is not an attempt to record the actuality of such places, rather my response to colour and mood and to capture atmosphere". With this in mind he was free to distil vibrant essence - a most luscious palette and unhindered composition yield what remain truly memorable paintings. Vital emeralds, purple and primary dashes, golden glazes build physically on his canvas. Fluid and skilfully effortless lines play with impressionistic passages and will remain in the memory of those who have seen, bought and studied the work of Hugh McCormick.
Hugh McCormick CV:
Born in Dublin 1943.
Educated at St. Columb's, Derry and St. Patricks, Armagh.
Studied painting 1960-1964 Belfast College of Art.
Studied at Hornsey College of Art, London 1964-1965.
Head of Art Department, St. Malachy's College, Belfast 1971-1975.
Public murals for Belfast Education Authority 1960s-70s.
Design and painting of stage settings for various Ulster theatre groups, The Lyric Theatre and Queens University.
Ran Dingle Summer School, painting courses from 1969-1973.
Head of the Department of Art and Design at Regional Technical College, Galway (GMIT) 1976-1997.
Co-founder of the Claremorris Arts Committee & "Claremorris Open Exhibition" 1978.
Chief Examiner in National Diploma in Art for the National Council of Educational Awards from 1983.
1993-1994 Atrist in Residence at Whitireia Polytechnic, Porirua, Wellington, New Zealand.
6 One-man exhibitions at the Kenny Gallery, Galway 1979-1997.
Various one-man exhibitions in London, St. Albans, Belfast, Armagh, Longford, Cork, Claremorris and Tuam.
Work held in various collections in Australia, Austria, Switzerland, Germany, Ireland, the United Kingdom, France and the United States.
Died on 12th February 1999.