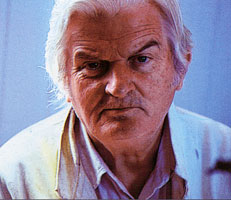 Seán McSweeney HRHA, Aosdána
Seán McSweeney is one of Ireland's leading artists; his bog pools and Sligo landscapes are iconic in Irish painting. Vibrant primaries mingle with dense blacks to suggest an almost primal depth.
Seán McSweeney was born in Dublin in 1935. A painter who concentrated on the landscape, Sean lived in Wicklow for 17 years prior to moving to Sligo where he has lived since. He has been the recipient of many awards including The Oireachtas Award (1968), The George Campbell Travelling Award (1980), the Carroll Award, IELA (1987), winner of The Claremorris Open Exhibition (1987/1988) and in 1989 he was awarded Bonn An Oireachtas.
In addition to his many solo and group exhibitions in Ireland, Seán's work has been shown abroad in Scotland and Wales in 1971 in "The Celtic Triangle" and "The Delighted Eye Exhibition"; "A Sense of Ireland", London, 1980; Cagnes-sur-Mer, France in 1985; Beverly Hills, California in 1986 and at the Bicentennial Celebrations (Australia) in 1988. There was a Major Retrospective of his work at the Galway Arts Festival in 1990 and the RHA Gallery, Dublin.
Selected Solo Exhibitions
| | |
| --- | --- |
| 2002 | Taylor Galleries, Dublin (also 2000,1998,1995,1994,1992,1991 1988,1986,1984,1982) |
| 2001 | John Martin of London Gallery |
| | Vangard Gallery, Cork (also 1998,1992) |
| 2000 | Fenderesky Gallery, Beltast (also 1995) |
| 1990 | Retrospective 1965-1990, Galway Arts Festival & RHA Gallagher Gallery, Dublin |
| 1977 | Dawson Gallery, Dublin (also 1975,1973,1969,1967,1965) |
| 1975 | The Kenny Gallery, Galway (also 1992, 1987, 1985, 1976) |
Selected Two-Person Exhibitions
| | |
| --- | --- |
| 2004 | The Kenny Gallery Galway with Diarmuid Delargy |
| 1998 | Romanischen Kellers, Salzburg with Charles Tyrrell |
| 1996 | RHA Gallagher Gallery, Dublin & Model Arts Centre, Sligo with Conor Fallon |
| 1992 | Taylor Galleries, Dublin with Charles Brady |
Selected Group Exhibitions
| | |
| --- | --- |
| 2002 | Living Landscape: European Topographies, West Cork Arts Centre: An Tuireann Arts Centre, Isle of Skye & Celtic Connections Festival, Glasgow |
| 2001 | Painting Landscape, Fenderesky Gallery, Belfast |
| 2001 | Boyle Arts Festival Exhibition selected by Seán McSweeney |
| 1999 | 8 Painters from Ireland, John Martin of London Gallery |
| 1995 | Poetic Land-Political Territory, NCCA, Sunderland toured England, Scotland & Wales |
| 1995 | 'An Dámhlann, A Kenny Gallery |
| 1990 | Contemporary Artists from Ireland, Austin Desmond Fine Art Gallery, London |
| 1985 | Fourteenth Festival of Painting, Cagnes-Sur-Mer, France |
| 1980 | The Delighted Eye, Irish Painting and Sculpture ot the 7092s, Earlham Street Gallery, London |
| 1970 | Landscape Then and Now, Arts Council touring exhibition |
| 1969 | Irish Exhibition ot Living Art (also 1967,1966,1963,1962) |